I asked for parity, and I got it.
As of this writing, Georgia is now number 1 – for the first time since Madonna was actually a virgin. Iowa is number 2 – and I'm not talking about corn in the… you know where I'm going with that. Cincinnati sits at number 3, and they may force playoff expansion – if they crash the end of the year party.
Clemson fell off the map, while Ohio State stumbled early to some Ducks. Saban lost to an assistant for the first time – and not the one you would have expected. And to make matters even more strange, the team that took down the Tide was unranked.
The Bama game was the icing on an already insane Saturday football cake – one that saw Oklahoma bench the Rattler in an amazing comeback over rival Texas, and touchdowns are still being scored in Oxford, Mississippi.
Welcome to the freaking show.
I'm here to ponder all that insanity and more! Don't forget, LISTEN TO THE PODCAST!
Tulsa is Better than Bama
Hear me out.
Tulsa beat Memphis, Memphis beat Mississippi State, State, beat A&M, and well you know the rest. It's science! But by that logic Ole Miss is better than Bama due to the same transitive property. How can that be you ask? Bama just pummeled Ole Miss. Well, it can't be – that's 10-year-old logic. If Bama played that same A&M team next week, they would beat them by three touchdowns – just look at the second half.
As an Ole Miss fan, I'm flattered. It was apparent that Saban and the Tide circled Ole Miss and balled out for that game. They clicked in every phase and dominated my Rebs.
Turn the page to this week where Bama proved they are mere mortals and not football robots. It was apparent Saturday that a bunch of kids may have read the press clippings – those that said Ole Miss was their toughest test, and A&M would be a push over after a loss at home to Mississippi State.
Though there was more to the stunning loss than a team sleep walking until it was too late. A week after a brilliant gameplan against the Rebels, Pete Golding and the Tide defense regressed to a game like we saw in the Swamp. Here's what one former Tide player and Friend of Week Zero thinks about the situation: (click the picture if you want your very on #Firepete shirt)
I get the bitching about Bill O'Brien, as it appeared he went away from the run when it was more effective. BUT, the Tide scored 38 points in a game where 14 should have been enough to win. Offense isn't your problem. Sure, it could be cleaner.
A week removed from dominating the line of scrimmage the script was flipped in College Station. Receivers dropped passes and defenders missed tackles. In essence it's the opposite of what we have grown accustomed to from the Pachyderms.
However, something tells me Bama will get it figured out and right the ship. I have no idea why – history maybe. I do feel sorry for whoever gets to be the revenge opponent. Oh, wait… What's this I'm being told? It's the Mississippi State team that just beat the team that beat Bama. There's that transitive thingy again. Unfortunately for State, the transitive thing was as real as that early season Landshark D.
I HATE the 3-2-6
For you non-footballers, the 3-2-6 is the stupid ass defensive formation the Ole Miss Rebels continue to put on the field against power running teams. Be prepared Rebels, because every team you face is going to run it at that goofy prevent defense – until you prove you can stop it.
Bama fans, I get your frustration, but your head would explode if you had to watch that crap. Unless you have Ed Reed, Troy Polamalu, Ronnie Lott and Steve Atwater, that crap will not stop the run. One solace is your archrivals coach, the Pirate, is too stubborn to do what hurts you most. They run the ball about 4 times a game.
Luckily, Ole Miss has special dude playing QB. Soak this up Rebs. They don't make many competitors like Matt. The ability to extend drives with his feet, combined with a Brett Farve level cannon under Lane Kiffin's direction, has made him arguably the best QB in college football. However, buckle up Rebs, because I think every game is going to be a rollercoaster – outside of Vandy and Liberty. Speaking of rollercoasters, one ride is officially…
O-ver
As the majority of the country tuned into the insanity happening in College Station, Kentucky was putting the nail in the Ragin' Cajun's coaching coffin at LSU. Coach O'Chizick is officially done. Maybe he can go play in that fishing hole he was referring to when speaking to a fan earlier in the week. W.O.W.
Should've called a timeout Coach… pic.twitter.com/RUPlDgZ8OR

— The Jordy Culotta Show (@CulottaShow) October 7, 2021
Orgeron has not only let a once proud program unravel, he has turned his head to sexual assault during his time on the bayou and is, in general, a buffoon. It's time for him to go back to his supporting role in The Waterboy. I'm sure Sandler will make a sequel at some point.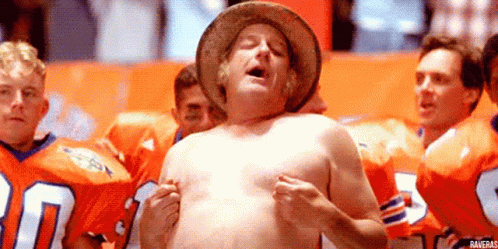 Props to Kentucky. They play gritty defense and find ways to score. They also magically find a way to make really pretty colors into some really dumb uniforms. It's impressive really. But, the Cats have set themselves up with what has to be the biggest game for their program since a coach named Bear was on the sidelines. This week you get what is basically a free shot against another mountain you rarely scale – in Athens, Ga.
It really is 1982…
…all over again for the Georgia Bulldogs. It's their first number 1 ranking since then, and they are somehow doing it with basically the same offense. Is their defense really this dang good? Can they really win a title with that simple of an offense? Crazily, I think so. Look at the rest of the country.
A Glance Around the Rest of the League
Tennessee – I was impressed with the gameplan in Florida. The beatdowns of Mizzou and South Carolina were impressive. I get those two teams suck, but UT hasn't done that to suck teams lately. They have been the suck. Transfer QB, Hooker, has them playing more sound, and the Vols have me nervous. They are confident and get the defenseless Rebs at home. I have a feeling the Vols will be pumped for this. Didn't Lane coach there once?
Auburn – Bo is gritty, but that doesn't change that he is average. Auburn got screwed on a bad missed Pass Interference before the half. That may have kept it close for a bit, but they weren't beating UGA.
Florida – I did it… I finally did it. I picked a Dan Mullen game against the spread – and got it right. Of course, a lot of that was due Vanderbilt. They bring the word suck down a level.
Arkansas – It doesn't make up for 4th & 24… for those that don't know and as much as this pains me…
But anytime Arky loses in miserable fashion – and especially against my Rebs – I revel in it with glee. Screw you pigs! BTW, Briles on that sideline makes them so much more dangerous than we usually expect to see with the Pigs on offense – unless you are Georgia of course.
A&M – I'm supposed to give you credit here for beating Bama. Credit.
Ludicrous Statements by Gary
This may be a new segment. Hell, it could be a whole column considering the amount he likes to hear himself talk and spit wisdom to us lesser beings. In this week of wisdom by Gary he gushed for minutes over a 60-yard pass by the A&M QB late in the game – that was inaccurate and way overthrown, mind you. The way Gary went on you would think it was an Elway reincarnate on the field. Again, the pass wasn't close. The shit he rambles about is maddeningly senseless. By his logic, fat Freddie Kitchen's was an All-American.
The SEC River Shootout
I admittedly missed most of this game due to the other insane matchup going on in Oxford, but I did check the score. I had emotions in this game due to possibly having a wagering interest. So, at first, I was really excited. Then Rattler got benched. Apparently, that should have happened sooner.
Anyway, there was no way Texas could blow their lead, much less the 3.5 line, right? Even with the game tied, I knew Oklahoma was playing to get in field goal range. How in the hell do you allow a 35-yard TD run at the end of regulation? You'd need Daniel Pettey to have Texas, that's how. Stupid Horns. Oh, I heard it was exciting for all those who watched. Seriously, I am pumped that this rivalry game will have an SEC logo attached to it in the near future. It's a great one!
Best of the Rest
Thank you, Iowa, for taking out one of the scummiest coaches and programs on the planet in James Franklin and Penn St. – and putting a dagger in their hearts. Look, I get all the poking fun at the boring B1G, but that was actually a really entertaining game. It was especially cool since Iowa seems to be one of the classier / easier teams to cheer for in the country. However, keep an eye on The Great Wearer of the Khaki because he is steadily creeping on a come up in the playoff hunt.
The ACC is just a big ol' bag of 💩. It's the most unpredictable weekly 💩 fest I have ever seen. Preseason top 10 darling North Carolina, who is now unranked, just lost to one win FSU. That pretty much sums up that league in one sentence.
Once again, if you made it this far, I hope you enjoyed! Leave me a comment below to let me know what you think! See you all next week! Also, LISTEN TO THE PODCAST!!