People in plastic pig hats were tearing down goal posts, bells were ringing proudly in Starkville, and the Aggies were dodging Buffalos. We told you, for the most part, how it was going to go last week, and we are back to try and do it again.
After two weeks of action our prognostication has been uncanny. Keep in mind this more for fun and not our official picks. You can find those on the podcast. Having said that, Pettey currently sits at 16 – 4 against the spread and Michael has come within points of nailing numerous final scores. It should be noted that one of us called the Arkansas upset and both of us had the Maroon Dogs taking it to NC State. So, strap in, and find out what our crystal balls – not to be confused with Deez Nuts – are saying this week.
New Mexico @ 7 Texas A&M -29.5 | o/u 50.5| Noon E | SECN | College Station
Pettey: I'm supposed to lay 30 points on that offense, you would have to be a lunatic. Did you see them play Colorado? On the flip side New Mexico super sucks and won't score. Can the back up lead them to 31? Sure, why not. Enjoy that top 10 ranking while you can Ags.
Week Zero Winner: Cult 31 – Lobos 0
Michael: The talent differential is the only reason to consider this game. The TAMU defense seems formidable, so this team doesn't have a shot. The Aggies need something to be proud of, so I'm guessing they will try and show out.
Week Zero Winner: Farmers 48 – Lobos 3
1 Alabama @ 11 Florida +14.5 | o/u 58.5 | 3:30 E | CBS | The Swamp
Pettey: Dan Mullen sucks at beating Bama. Dan Mullen sucks at covering spreads. And I'm pretty sure his shitter is full.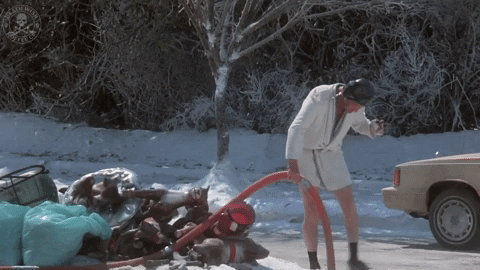 Bama's defense is going to suffocate Mullen's offense like they always do and the Tide will pull away and win this comfortably.
Week Zero Winner: Pachyderms 38 – Swamp Lizards 13
Michael: Where o' where has Kyle Pitts gone? He's not in Gainesville. Neither is Toney. The swamp may have an impact early, but you can bet that the 2nd and 3rd quarters won't be nice to the Gatas. The Bama O is different than last year, so I'm going to say they don't score quite as much. BUT, the defense is better.
Week Zero Winner: Gump 45 – Jorts 16
Ga. Southern @ 20 Arky -23.5 | o/u 52.5 | 4:00 E | SECN | Setting of Deliverance
Pettey: The Hogs are riding high after a monumental beatdown of old rival Texas. Heck I'm riding high, I predicted it. The hogs are rolling how could you go against them and their momentum right now. Easy, they are playing a triple option team that can make you play a sloppy game after coming off your high horse. Pigs win in a slop.
Week Zero Winner: Oinkers 28 – Eagles 14
Michael: Both these teams like to run the ball. Hell, that's all they do. Wake me up in the 4th quarter when this is closer than it's supposed to be.
Week Zero Winner: Pig Heads 31 – Lower Georgia 20
Miss. State @ Memphis +3 | o/u 64 | 4:00 E | ESP2 | Liberty Bowl
Pettey: Last week was an example of the moments that make you love the Pirate. These are the weeks that can bring about the other kind of feelings. This is a weird spot for MSU, they are better, but Memphis plays the Mississippi schools tough in that crap hole of a stadium. Memphis is pulling the no bells allowed routine. This one might get wonky for state.
Week Zero Winner: The Silenced Bells 42 – Tiger High 41
Michael: I'm glad I don't have to go to this game. I really don't know what to expect from the Pirate's men this week. If they don't pull this one out, someone will be walking the plank. Somehow, someone will sneak a cowbell into the stadium. That will be the highlight of the game for non-Memphis fans. I generally support my SEC brethren, but in all honesty, the cowbell could be in real trouble here. Let's hope they pull out the win.
Week Zero Winner: The Lone Cowbell 34 – The Blue Tigers 31
South Carolina @ Georgia -32 | o/u 48 | 7:00 E | ESPNU | Between the Hedges
Pettey: This spread, and the game total should tell you just how bad South Carolina is. Crap that is a ton of points in an SEC game. Boom on the sidelines at Georgia can tell them all the Cocks secrets, I guess? Betting on the Georgia D here.
Week Zero Winner: UGA 35 – Cocks -3
Michael: I'm going to say this every single week… because it's true. South Carolina, YOU SHOULD HAVE HIRED CHADWELL. This is not another 2019. I highly recommend you stay home this week, because having grown men bark in your face isn't worth it to watch a loss. Trust me… I know.
Week Zero Winner: Dawgs 41 – South Carolina 0
Directional Michigan @ LSU -19.5 | o/u 55.5 | 7:30 E | SECN | Not-So-Death Valley
Pettey: Why is LSU only favored by a shade under three TD's at home to directional Michigan, the Central one for those who care – they are the Chippewas. Well, it's because the O'Chizik train wreck is in full effect. They will win, but it won't be pretty.
Week Zero Winner: LSU  35 – CMU 20
Michael: There are 2 very important podcast episodes you need to hear before you bet on another LSU game. Exhibit A: Episode 0023 – Season Finale, Again… at the 11 minute mark to be precise – where we lay out exactly why we aren't surprised with this year's Tigas. Then, Exhibit B: Take the Damn Bet where we tell you to take the under 8.5 wins for LSU this year. If they lose this weekend, that bet will be in "sure thing" territory. They probably won't, but it's not a given. I'm taking the Chippewas, just in case 😉.
Week Zero Winner: LSU 26 – Chippy 27
22 Auburn @ 10 Penn St. -6 | o/u 53 | 7:30 E | ABC | Happy Valley
Pettey: Enjoy that top 10 ranking PSU. Also, enjoy the last week of peace in the Yellowhammer state Bama fans, I have a feeling our neighbors down south are going to be giddy after this one, visions of sugar plumbs will be dancing in their head as they toss toilet paper all over their town. PSU likes that goofy B1G smash mouth football. I don't think they are going to like to smash mouths with Tank and CO.
Week Zero Winner: Lions 21- Tigers 24
Michael: It pains me to say this, but facts are facts. Bo Nix looks like a quarterback now that he's in a college football system – and as bad as I hate to say it, a damn good one. This gives me the Joe Burrow feels. Remember when he sucked terribly at LSU? Probably not, but he did. Then a fellow named Joe Brady came to town, coordinated a down-the-field passing attack and fireworks ensued. Nix could be in a similar situation with the new system. Kudos to Coach Harsin for getting that poor kid out of the glorified veer. I said all that so I could tell you that the Tigers won't need the Native American Burial Ground to win this one, and win it easily. I'm hoping one of the greatest atmospheres in college football can be enough to make this a competitive game for a while. State College is an absolutely electric place and Beaver Stadium is bad ass, especially when it's a white out. Also, I said this last year and I'll say it again, there's no such thing as a nittany lion.
Week Zero Winner: Made Up Lions 20 – War Eagle 37
Tulane @ 17 Ole Miss -14 | o/u 76 | 8:00 E | ESPN2 | God's Country
Pettey: Willie Fritz is a name to know at Tulane, he will be coaching at a school you know soon. Tulane gave Oklahoma all they wanted and had a chance with the ball at the end. They have been on the road since the season started even playing a home game in Legion field last week. Something tells me that starts to catch up and with the Rebels newfound defense the Rebs cover for the third straight week.
Week Zero Winner: Rebs 52 – Green Wave 31
Michael: I wonder how good the Ole Miss defense really is? I might get a little more of an idea this weekend. The Green Wave is formidable – ask Oklahoma. However, I think the RebelBearShark™ D is legit.
Week Zero Winner: RebelBearShark™ 41 – Green Splash 17
Stanford @ Vandy +11 | o/u 49 | 8:00 E | ESPNU | Nashville
Pettey: I watched Vandy last week closely. They won but not because they wanted to, the other team just wanted it that much less. Give me those points and that team with the weird ass tree mascot.
Week Zero Winner: Boat Nerds 9- Tree Nerds 31
Michael: Gross! Vandy sucks. Glad they got a win last week. If Stanford isn't still celebrating last week's win, they should easily take this game, despite the hoard of Vandy faithful that will no doubt be setting noise records in the stadium.
Week Zero Winner: Our Nerds 3 – Their Nerds 24
19 Arizona St. @ 23 BYU +3.5 | o/u 51 | 10:15 E | ESPN | Provo
Pettey: Yes, we will do top match ups outside of the SEC. I somehow dropped the ball on Oregon and Ohio St last week. One of the best coaches to quote, Herm Edwards, has built ASU into a solid program, but he has to take his boys to Provo, a place which seems to be tough for folks. I have watched some BYU and they are solid. On that note… Provo Floats for all!
Week Zero Winner: Mormons 27- Devils 24
Michael: I'm going to trust my cohost on this one, because I haven't seen much of either team. What I do know is BYU feels solid again. So, I'll take a 'soak' in the dark (that's a Provo float joke – Google it). I love Herm Edwards.
Week Zero Winner: Brig Ham 28 – Herms 20
Kentucky, Tennessee and Mizzou, are playing but have no lines this week due to the pathetic level of competition… well maybe Tennessee shouldn't be included in that list. Tennessee Tech could make it interesting 🤣.
Hope you enjoy your football weekend, and your team wins all the glory! Oh yea, LISTEN TO THE PODCAST!